Website Design for
Walking And Wheeling
PROJECT BACKGROUND
Walking and Wheeling was started in October of 2005 by the Physical Therapist Peter Jacques to meet the orthotic needs of children in Wisconsin. Since its start in 2005 Walking and Wheeling has expanded to serve the needs of children for orthotics, mobility, and positioning throughout the entire state of Wisconsin.
Walking and Wheeling started with just one child for one ankle foot orthotic and now serves over 600 children per year with over a 100 different products and services. Walking and Wheeling also assists with the rehab equipment needs of many schools and clinics. The organization that started in a small home office now operates in a state of the art 1800 square foot facility.
With this growth Walking and Wheeling needed a website that would reflect the unique service it provided. The website needed to be intuitive, visually appealing, and most of all educational.
THE CHALLENGES
Targeting a Highly Specialized Niche
Walking and Wheeling provides mobility and positioning equipment and related services for children. There few if any other clinical physical therapists that specialize in this in the US.
The challenge would be to pioneer online solutions in this unique field. It also meant that our approach to the target audience would need to adapt as we learned more about this niche.
Correcting the Online Presence
When we first started working with Walking and Wheeling the web presence was confusing. There were two blogs managed by the owner of Walking and Wheeling. There were also misleading internet directory listings. Some of the listings described Walking and Wheeling as a carwash, not a clinic.
Crafting the Web Brand Identity
One of the major challenges we had to overcome at the beginning of the design process was the lack of an attractive and cohesive brand identity. Walking and Wheeling had just recently updated their logo but had little other brand-specific design elements.
We would need to determine design foundations such as fonts, colors, layouts, and picture usage.
THE SOLUTIONS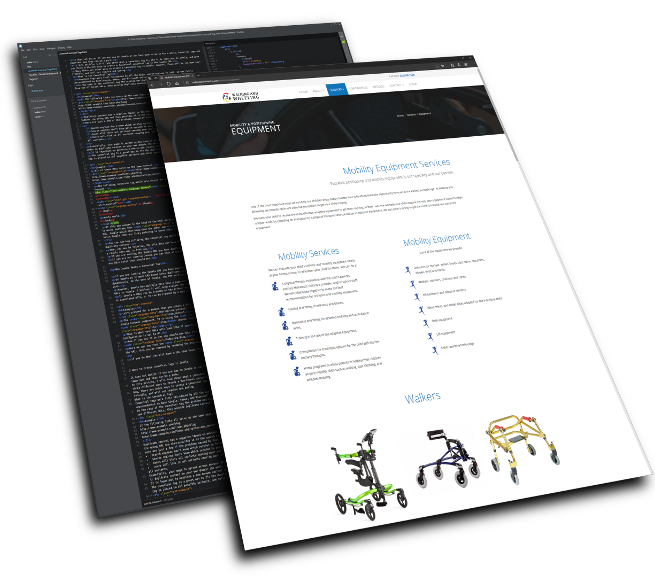 User Focused Approach
We knew that we would have to understand who Walking and Wheeling was serving to create a website that would answer their questions. We started by meeting with the team at Walking and Wheeling to learn as much as we could. We worked hard to understand the field of pediatric mobility equipment.
Peter Jacques and his team were involved in every step of the design process to ensure we accurately described their specialized services and anticipated patient and parent questions.
With what we learned and the guidance of the Walking and Wheeling team we focused the content on what parents would need to know, and how we could best meet their needs. We also created a special For Patients page that answered common questions and provided information about insurance and helped parents begin the process.
Clean Design
After some brainstorming, we determined that the best look and feel for the site would be a clean blue design. We used copious white spaces and thin lines and fonts to create a spacious, clean and modern style.
We used blue as the primary color for buttons, titles, and other accented elements. The blue and white create a beautiful, clean, and open feel to the website.
Dynamic Location Page
Walking and Wheeling serves a wide area and uses several clinic locations. Because of this it was important to provide a user-friendly way of finding the nearest location.
We created a dynamic map page that would allow people to use a geolocate option or enter their location. The user would then be able to see their location in relation to the many locations, get directions, and find out any important details about that location.
This user-friendly element of the site greatly increased the user experience and helped people find the best location.
Goal Conversion Analytics
We implemented the standard Google Analytics on the Walking and Wheeling website. However, we also set up goal tracking of key conversion rate metrics.
We know that tracking more than just page views and time on site is important to an effective website. An effective website increases sales and streamlines business growth. To track the impact of our efforts we created custom goals with clear metrics we could watch. This provided us with some valuable insights into how to increase the effectiveness of the website.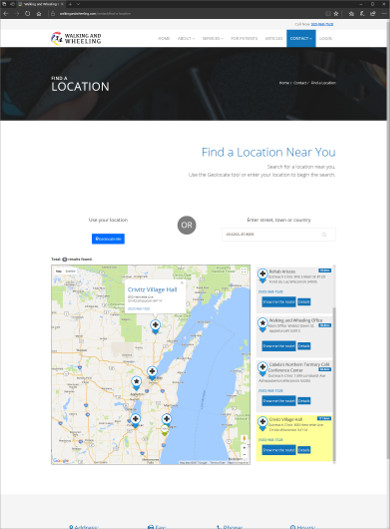 THE IMPACT
Increased Organic Traffic
Within the first year of launching the new website we have been able to increase organic search traffic by 1000%.
We have also been able to see a significant increase in goal conversion rates, time on site, page views, and user engagement.
Over time we have been able to increase the site's effectiveness by regular enhancements and calculated changes.
Positive Design Feedback
Our attention to detail has paid off. The people served by Walking and Wheeling have often expressed their admiration of the new website. People were impressed with how aesthetically appealing and how user-friendly the site was.
To ensure this did not dimish over time we have updated the site's appearance and design to stay current with the latest design trends.
Reduced Erroneous Inquiries
By claiming vital business listings, and submitting correct information to business directory aggregators we were able to correct Walking and Wheeling's online presence.
This correction reduced erroneous service inquiries significantly and allowed the Walking and Wheeling team focus on helping kids get around!