One of the most important aspects of internet marketing for small businesses is good reviews. In this article, I will cover why reviews matter, where you should focus on getting reviews, and how to get good reviews. I will be focused primarily on local businesses.
Why Reviews Matter
Most people look at reviews. It may be a quick glance at the star rating or it may be a serious read through the details. People trust other people and their experiences. For a local business, this can be a blessing or a curse. If you receive lots of good reviews it is a blessing. If you receive lots of bad reviews the recovery road is hard and long.
People are influenced by a number of aspects of reviews. They are influenced by the star rating, the number of reviews, and the content of the reviews. Most people pay more attention to the one-star reviews than the rest. They want to know how a business behaves when things go bad.
Consider the following Google search results for plumbers.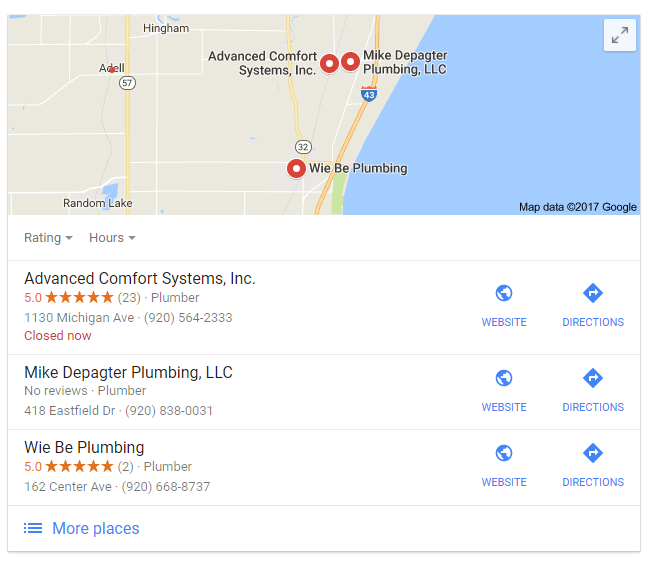 It is easy to see that only one of the top three has any real reviews. Advanced Comfort Systems has star ratings that are really good, and the quantity of reviews is disproportionately larger the closest competitor. The result is that people are more likely to trust a company with such a massive lead in reviews.
If your business is not actively seeking reviews you are probably being left behind by those who are. If you look at your competition and don't see anyone earnestly seeking reviews that doesn't mean you should slow down. Imagine if your business had six times as many reviews as your competitors. It would help your business tremendously.
Where You Want Reviews
Reviews are important, but you need to know where they matter most.
There are a few different places where you should focus on gathering good reviews. I will list them for you here.
Google My Business
Facebook
Yelp
Your Website
Trip Advisor (for restaurants and hotels)
Angies List (for service providers)
Thumbtack (for service providers)
Home Advisor (for contractors and home repair professionals)
The first four places are the most important for all businesses. However, depending on the services or products you offer you may want to focus on getting reviews within platforms that market to your customers. I would recommend collecting as many reviews on each platform as possible.
If you are not sure what platforms are best for you to focus on, please contact us. We would be happy to point you in the right direction.
How To Get Good Reviews
There are three primary steps in getting good reviews.
Provide an excellent product or service.
Exceed your client's expectations.
Ask for a review
That is the simple effective formula to get good reviews. If you provide value to your clients and exceed their expectations they will give you glowing reviews. However, not everyone thinks of giving reviews even after an amazing experience. You have to ask for the review.
I recommend you make things as easy as possible for your client to give you a review. Send them a short personal email with a link, and a note about how much it would mean to you.
You can send multiple review requests to the same person. However, I recommend requesting the review on a different platform with some significant time in between.
You will get emails and or had written notes from clients at times telling you how much they appreciate what you did. I recommend asking if you can use what they said and their name in promotional material. Most people will allow you to do so. These are great to use on your own website.
Important Notes About Reviews
Please note: purchasing reviews or incentivizing reviews is against the law. You are not allowed to offer rewards or incentives to gain more reviews. You can read the Federal Trade Commission's Endorsement Guide if you want more information.
Also, if you would like my trick to auto-fill Google review links with five stars, you can read how to do so in my article How to Get Good Google Reviews.
This article is part of a series on the Six Key Areas of Internet Marketing. We highly recommend reading all of the articles in this series.